✦ TERMS OF SERVICE ✦
---
All payment is done in USD via Paypal invoice. At least half of the payment must be sent after the first draft is approved, otherwise the commission will not be completed.

I do not animate emotes. You may have any commissioned work animated by another artist/person.

I reserve the right to decline any request if I am uncomfortable with the content or the style.

Turn around will vary depending on my schedule, and overall commission workload. I will provide you with a timeframe for completion, however general turn around is 1 - 4 weeks from when I start your commission from the queue. Total wait time could be anywhere between 1 week to 3 months depending on the queue.

All commissioned work is for personal use only. You may edit the artwork as you please, or use it for personal graphics (panels, icons, profile pictures, etc.).

You must inform me if you will be using the artwork commercially for merchandise. Emotes are not sized for printed merchandise, so a larger size must be commissioned for commercial use. The price will vary depending on the size.

Please be aware of the guidelines for your preferred streaming website, as the implications of some emotes may be deemed inappropriate. While I will provide feedback regarding the acceptability of a concept, it is ultimately not my responsibility to ensure that your emotes will not be reported or removed.

Commissions are non-refundable and prices are non-negotiable.

As the artist, I own all rights to the artwork unless you have paid for commercial usage. I reserve the right to repost artwork for advertising purposes. You may not take credit for the artwork, resell/reproduce it, or create merchandise without prior discussion.

By commissioning me, you agree to all the terms outlined on this page.
▶ Ordering
---
I will not accept commissions without at least one clear visual reference of the subject.

Please be concise as possible when providing descriptions and additional details.

Please let me know beforehand if you have any deadlines that must be met (ex. holiday season, gifts, etc.). I will try my best to accommodate a deadline, however a rush fee may be charged depending on the order and allotted timeframe.

Rush commissions are available, unless otherwise stated. Rush fee is 50% of the total commission price.
▶ Revisions
---
You may make any amount of reasonable revisions to the initial sketch. I reserve the right to request for compensation if the revision process is taking a lengthy amount of time.

Minor revisions (ex. changing some colors, adding text, etc.) may be accepted at the final draft without an additional charge, as long as it does not alter existing lines.

Destructive revisions (altering lines which changes other parts of the artwork) to the final draft may incur an additional fee of $5 - 10 USD at my discretion.

Color revisions and additional edits (ex. holiday edits) to an existing emote will range from $5 - 15 USD.
| Will Draw | Will Not Draw |
| --- | --- |
| OCs | Furries |
| Fan characters | NSFW |
| Animals | Heavy mecha/armor |
| Fanart | Extremely muscular characters |
✦ PRICES ✦
---
✦ BUNDLE ✦
3 emotes + 3 badges for $150
▶ EMOTES $40 USD/EA
---
224 x 224, 112 x 112, 56 x 56, 28 x 28 transparent png files

Additional sizes available upon request (112 x 112, 56 x 56, 28 x 28) for manual uploading on Twitch

I do not animate emotes. You may request the PSD for an animator. Separation of individual parts of the emote will be an additional $30 USD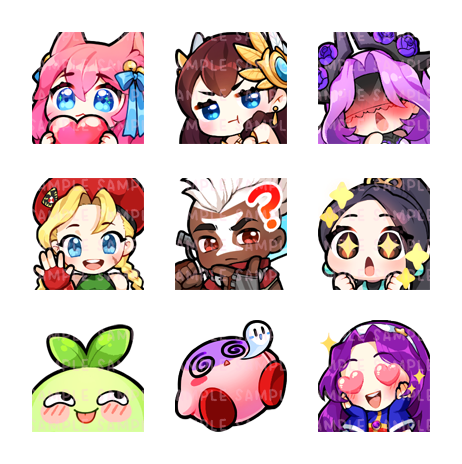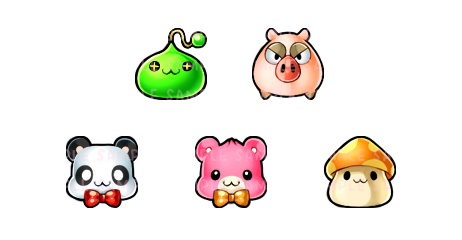 ▶ BADGES $35 USD/EA
---
144 x 144, 72 x 72, 37 x 37, 18 x 18 transparent png file

$10-15 per add-on or recolor (depending on the details)
▶ CHIBI $80+
---
1000 - 1500 px

Same price per additional character

Pets/familiars/pokemon/etc. $15 - 30, depending on complexity

Price will vary for larger dimensions